Podcast: Play in new window | Download | Embed
Subscribe: Google Podcasts | Stitcher | Email | RSS
Track and field legend, Michael Johnson, is coaching in the American Flag Football League (AFFL). And his Godspeed team is going for the $1 million.
Great to be joined by Michael Johnson, this week on "Tech of Sports."
Michael Johnson is nothing short of a legend. Michael was a part of the USA Olympic team in Barcelona in 1992, Atlanta in 1996, and Sydney in 2000. He established a record of 13 Olympic and World Championship gold medals during his 11-year career.
Michael broke world records in the 200 meter, 400 meter and the 4 X 400-meter relay. He completed the historic 200/400-meter Olympic double in 1996, giving him the title of the "Fastest Man in the World." He was clocked running 23mph en route to his historic 200-meter performance of 19.32 seconds. He added the 400-meter world record in 1999, clocking in 43.18 seconds, securing his place in history.
He also runs Michael Johnson Performance, and is helping train the next generation of athlete:
"He is obsessive about human performance. With decades of research and the relentless pursuit of the best training methods, they combine tested and proven training methodology with the latest and most innovative techniques to produce the best results possible. Michael Johnson Performance has a simple belief that training programs should be created to help individuals of every athletic ability achieve their goals and reach their full potential in their sport. The fundamentals and structure of the programs are designed to optimize the athletic performance of any athlete on the court, track, field, or ice."
Johnson is lending his expertise, knowledge and training advice to the Godspeed team in the AFFL; and it;s working. Godspeed led by Seneca Wallace and come ex-NFLers will be playing on Thursday night for a winner take all chance at $1 million. It was great to talk with Michael, enjoy the interview and enjoy the Flag Football.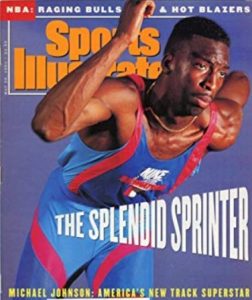 Where to see it:
America vs Pros
BBVA Compass Stadium
Houston, TX
July 19, 2018
July 19 at 8pm EST Godspeed vs. Fighting Cancer, NFL Network
America's Team and The Pros compete for $1,000,000.