Podcast: Play in new window | Download | Embed
Subscribe: Google Podcasts | Stitcher | Email | RSS
Pleasure to be joined by Olivia Baker, this week on "Tech of Sports." Olivia is having a career year in 2022.
The New Jersey native and Stanford grad is current the 25th ranked 800m runner in the world. She just ran at 1:58:46 at the Toyota USATF Outdoor Championships at Hayward Field in Eugene, OR. Now living in Atlanta and representing the Atlanta Track Club, Olivia has her sights set on improving her world ranking and feels her best times are still to come. She's had a busy 2022 and there is still half the year to go.
A self-described "nerd" (I wouldn't call her that), Olivia loves reading and co-hosts a book club on Instagram @runjumpread), along with interests that include watching sports, hiking, and board games.
We were luck enough to catch up with the speedy and gritty Olivia!
She is a seven-time national championship qualifier with a career-best 3rd place finish in the 600m at the 2019 USATF Indoor Championships. Baker was a semi-finalist in the 800m at the 2016 Olympic Trials and qualified for the 2021 Trials. At Stanford, Baker, who has a degree in human biology, was an 11-time All-American. Her personal best of 2:00.08 in the 800m (2018) is the Cardinal's school record.
A fun and quick talk with Olivia.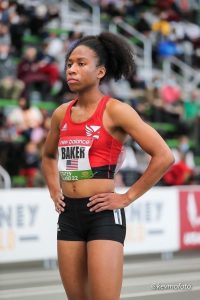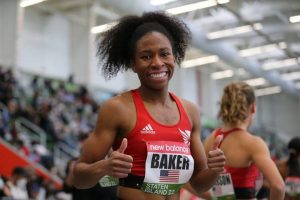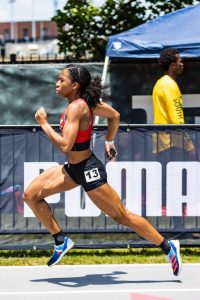 Career Highlights:
2022 USATF Indoor Championships, silver (800m)
2020 USATF Indoor Championships, fourth (800m)
2019 USA vs. Europe, fifth (800m)
2019 USATF Outdoor Championships, fourth (800m)
2019 USATF Indoor Championships, bronze (600m)
2018 USATF Outdoor Championships, sixth (800m)
2018 NCAA I Outdoor Championships, fifth (800m)
2016 NCAA I Outdoor Championships, silver (800m)
2016 NCAA I Indoor Championships, bronze (800m)
2015 Pan American U20 Championships, gold (4x400m)
2015 USATF U20 Championships, bronze (400m)
2014 USATF U20 Championships, silver (400m)
2013 USATF U20 Championships, gold (400m)